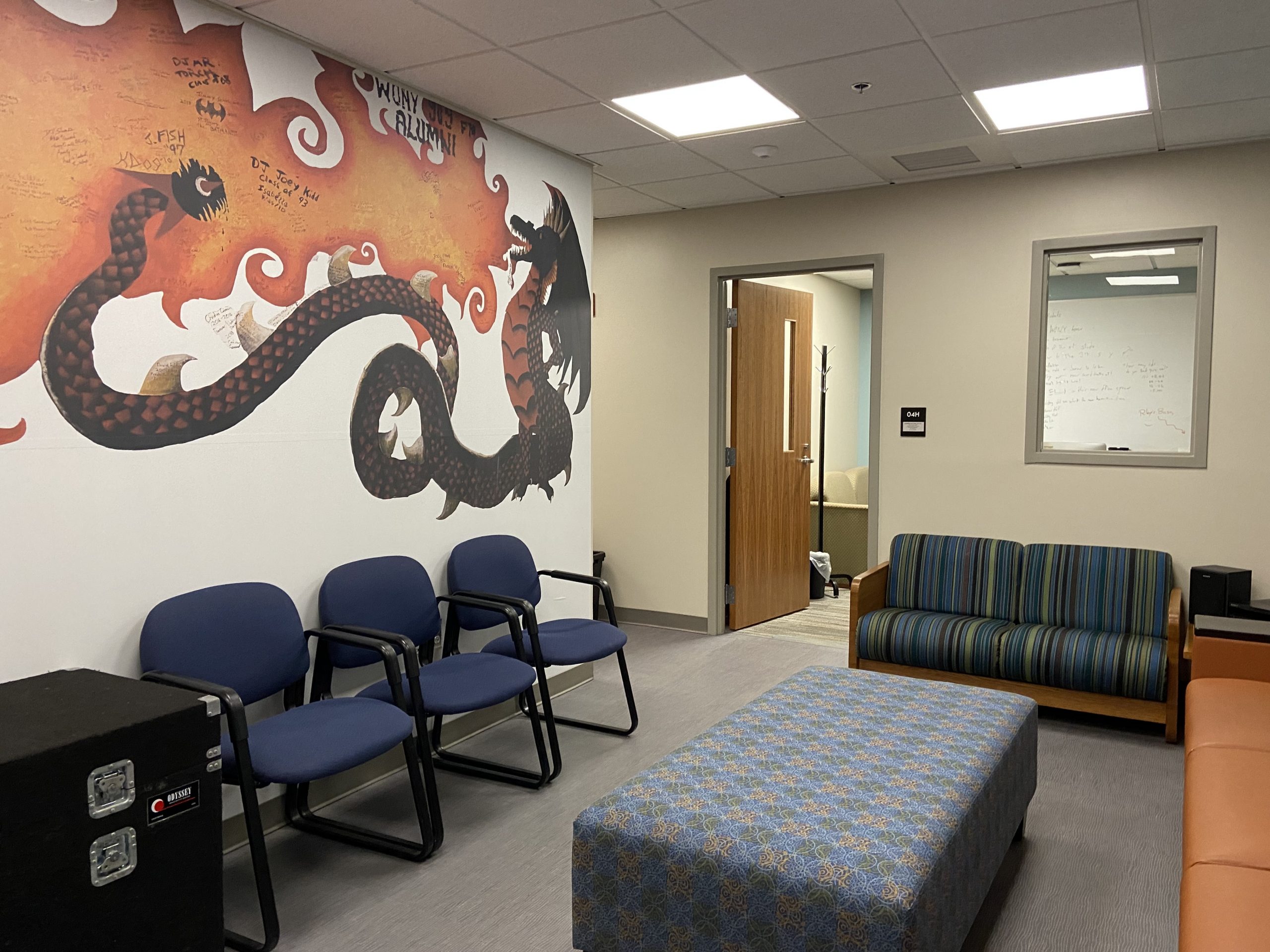 An inside look at the new radio station – The State Times
[ad_1]
Chelsea Sookra, editor-in-chief |
WONY 90.9 FM, SUNY Oneonta's radio station, is new and improved! I met with the Music Director, Lou Gabay, and the General Manager, Riley Brown, to tour the new station. This is WONY's first new station in 40 years. They have been at Alumni Hall since the 1960s. Gabay credited COVID-19 for WONY's rebranding. COVID-19 ultimately gave them the time and space to improve the station. The shows started on Friday September 10e. There are nine shows so far, but anyone can train to be a DJ and have their own show!
They can't wait for people to come and use the space too! Students can come in and talk to members about radio show ideas or if they want, they can go on air! When Brown took me around the station, I saw it all and it's brand new. Their current technology is up to date, and all equipment and rooms are in the same area, unlike their old station. They have a lounge with chairs and tables as soon as you walk in, with two office spaces to the right for chatting with E-board members while on duty.
The two new podcasting booths are located directly opposite the office spaces. Students can view the hours to use them and use them for school, as well as go on air and participate in a podcast. To the left of the living room are the two new studios! Studio A is where the DJs have their shows, and there is a space for talk shows where guests can sit. It's also soundproof and "looks more like a real radio station," Brown said.
Studio B is the production studio. This is where the news is created, and students can also use this space. This is where they create show IDs (their intro before starting their shows). New members can practice using Studio B, such as familiarizing themselves with the equipment. WONY strives to teach new members how to use the equipment. New members can live stream or record on their laptop.
The next step is the CD library. Brown has organized the entire library himself alphabetically (actually three shelves which he calls "his baby" so be sure to check that out. The CD library isn't even complete yet, they have a lot more CDs to put in! WONY is very dedicated to their CD library, despite the CDs being somewhat outdated. Volunteers had to help them move all the boxes, so you know it's important when a whole team must help.
To end the tour, Brown showed me Wally the Whale, WONY's mascot. Wally is currently inactive, but will be back soon. I asked Gabay what made him join WONY, because being on the air can be intimidating, and he told me that he has been a part of WONY since he was in first grade and that he is still in junior. He believes that good music should be shared no matter what. Even if you think going on the air is intimidating, if you're interested, email WONY at [email protected] They are delighted to meet you!
[ad_2]