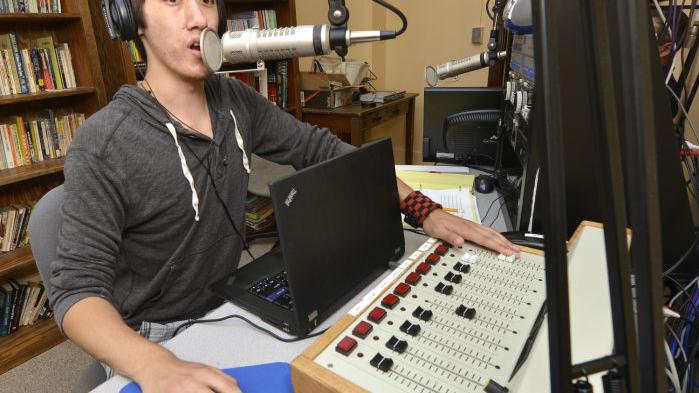 HORLYK: Old storeroom becomes Morningside College radio studio | Columnists: Earl Horlyk
CITY OF SIOUX | Ben Catus, director of the student-run station at Morningside College KMSC-FM, likes to think of it as the eyes and ears of the campus.
Unfortunately, the radio station's temporary digs are not equipped with a window so Catus can actually see outside his broadcast booth.
"It feels weird to be on the air in this little room," said Catus, as he sat in the makeshift Lewis Hall studio that was once used for storage by the Spanish department. "It sometimes feels like it's closed."
Since June, KMSC has been broadcasting a few buildings away from its long-time home of the Hickman-Johnson-Furrow Learning Center.
The change of location is due to the ongoing renovation inside the learning center as well as the ongoing construction of two neighboring buildings, which will soon house new classrooms and an expanded counseling center.
The $ 13 million project is expected to be completed by fall.
Dave Madsen, head of the college's mass communications department, said he chose Lewis Hall as an alternate site for the KMSC because the station's transmitter is on the roof of the building. Madsen admits that the control cabin – which has no air conditioning and is cooled only by two small fans – is less than ideal.
"We mainly broadcast from inside a closet," he admitted.
After the remodeling of the Learning Center is complete, Catus will return to the old studio.
Still, the resort's afternoon DJ makes the most of the situation.
"Our usual studio has windows and toilets nearby," said Catus, 20. "If I want to look outside or use the bathroom, I'm just going to make sure I play a longer song."
A Moville, Iowa resident, who plays guitar, drums and ukulele when not on the air, said being a presenter on his college radio was a goal of long time.
"My dream job is to someday become a professional voiceover actor like Don LaFontaine," said Catus, a junior in mass communication.
Who is Don LaFontaine? He was the actor whose particularly deep voice was heard in thousands of trailers for films like "The Terminator", "Batman Returns" and "The Simpsons Movie".
"Don LaFontaine had one of those voices that was instantly recognizable, just like Morgan Freeman," Catus said. "I would love to look like one of these guys."
Until he's able to hit the big time with a perfectly modulated announcer voice, Catus is content to feature music from independent artists such as The Avett Brothers, Fleet Foxes and Skypiper on his daily radio show. .
Even though he'll be broadcasting from a small and sometimes stuffy booth for the rest of the summer, Catus remains optimistic.
"I've heard that hot temperatures are good for your vocal cords," he said. "It could be a good thing."