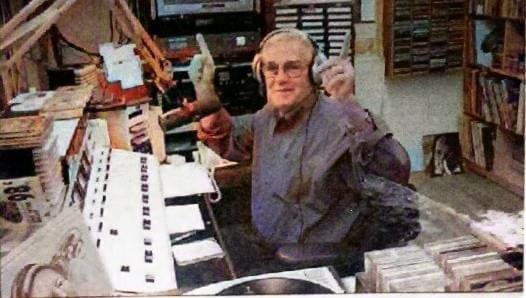 Radio broadcasting legend Bill Malone remembers in Fayetteville-Lincoln County | New
[ad_1]
Bill Malone, affectionately known as Wild Bill, had an iconic voice and a love for country, gospel, and rock and roll.
The broadcasting legend with close ties to Fayetteville and Lincoln County passed away on Wednesday, October 13. His family said he "signed".
Friends and family said Malone was known as a farm boy with a passion for broadcasting.
Born in Lincoln County, Malone was proud to call Lick Skillet, Alabama, his home. It was a place where his grandfather had a general store and Malone was known to spin a thread, or three.
Malone attended New Sharon Elementary School and Hazel Green High School. His final year in high school, he attended the Castle Heights Military Academy in Lebanon. He was honorably discharged from the United States Army in 1962.
Malone once said that he got into radio because it was better than ginning cotton or running a general store and it was "more fun".
Malone's broadcasting career spanned seven decades.
In an interview with Don Counts of Fayetteville about a year ago, Malone said he made 75 cents an hour working 60 hours a week at WVHP in Huntsville when it was "real radio". Music was played only from the old 75 vinyl records and all commercials were live.
During the interview, Malone recounted her work in Huntsville. After work, as he got into his car, he found a note wrapped around a bottle by country music artist Webb Pierce asking Bill if he would play his record on the radio station.
Malone and Elaine, his wife of 59 years, created WIXC 1140 AM in the early 1970s, where his legendary show "Rollin 'Home with Bill Malone" gained popularity.
During his Rollin 'Home with Bill Malone Show, he played 50's and 60's hip hop music, R&B, and "Do Good Songs" – gospel – to close the last 15 minutes of his 3-hour show. hours which took place from 3 am to 6 pm from Monday to Friday.
He sold all of the commercials featured on his show and demanded the same from the people who worked on his station.
"I would tell them they had to sell enough to make their base salary," Malone said in his interview with Counts.
After hearing of Malone's death, Counts said, "Bill was a good friend."
"It's hard to believe that the man I grew up listening to on WIXC would ever become my friend," he said. "As I got into radio as an adult, Bill treated me with the utmost respect. Bill was passionately wild as silver in the studio and fun to watch. Some fans called him Wild Bill.
He said he would have loved to film one of Bill's TV shows.
"Bill was entertaining and sounded just as good in his later years as he did in his younger years," Counts said. "I appreciate Bill as a true radio icon who knew the commercial meaning of Bill Malone Rollin 'Home."
Count said he remembers a time his mother took him to Big K in Fayetteville and Bill was there doing a live remote.
"I was fascinated by the live decks playing records in front of Big K," Counts said. "I told my mom I want to do this when I grow up. WIXC was a cool radio station with great music and very interesting ambulance hunt type news that the public loved. "
Mary Ann Tackett works at WYTM in Fayetteville on Sunday evenings playing gospel and responding to requests from listeners. She replaced Malone on occasion since he was no longer on the air. Tackett and Bill were two distant cousins.
"Bill was a really great DJ," Tackett said. "Everyone in the Lincoln County community loved Bill and he will surely be missed. "
Tackett shared the time she sent Malone a CD recording of her songs including a family photo. "When Bill was playing a song he would tell listeners about the photo I included." I thought we were related, but when I saw the family portrait there was no doubt, "explained Bill.
Mickey Lawson, owner of the Lawson department store, said Malone was a good friend to him and the Lawson family.
"Bill was a huge fan of 'The Killer' – Jerry Lee Lewis," Lawson explained.
"If anyone ever liked radio, it was Bill Malone," Lawson said. "He was the best advertiser I know. "
Lucy Carter Williams, retired editor of the Elk Valley Times, said: "Bill Malone was the real deal when it came to radio.
"An icon in the business, her soft and deep voice has been a friend of our community for decades," said Williams. "The first time I met Mr. Bill was at his WIXC station on the bypass – I was just a journalism student at the time on internship with the newspaper here, but even then, I knew WIXC was a big deal. The station was known throughout much of the Southeast because of Mr. Bill's leadership, but even with his notoriety he still had a way to make you feel comfortable. He was a professional, but still down to earth and always funny.
"Today afternoons on WYTM won't be the same without Mr. Bill's 'Rollin' Home Show '.' From country music to rock and roll to gospel he has performed music that has spoken to generations. As a community he will certainly be missed. He was a legend whose shoes will not be easy to wear. to fill.
John Malone, owner of Elk River Media, said it was a "sad day at WYTM" after hearing about Malone's death.
"We'll never see another radio DJ like Bill Malone," he said. "He had his own style of performance and on-air presentation that reflected Bill's 'larger than life' personality. It is difficult to describe Bill's influence in and around Lincoln County. His clients have benefited from having Bill as their spokesperson. It is not known how many cars it was commissioned to sell in its nearly 70 years of broadcasting. Paraphrasing an old expression – if there was a radio in Lincoln County's Mount Rushmore, Bill would be on it.
Lincoln County Mayor Bill Newman said Malone was a character from an era when AM radio was how many received their news and entertainment. Newman said Malone worked alongside Tennessee Valley legends like Grady Reeves, Slim Lay, George Washington Tucker and others.
He wanted Malone's family and friends as well as the community to know that he was thinking of them during this time.
Bill Malone is survived by his wife and children, Jody and Debbie Malone of Heritage, Maria Malone West of Hazel Green, and Jeff and Tosha Malone of Hazel Green.
Known as "Paw Paw", he has seven grandchildren, Jessica and Seth Ketner, Matthew and Mallory Malone and Collin and Jade Malone of Hermitage; Alexa and Mitch Gentle from Huntsville, Alabama; and Mikala West, Morgan Malone and Katherine Malone of Hazel Green and four great-grandchildren, Jazzy, Kate, Connor and Mya.
[ad_2]