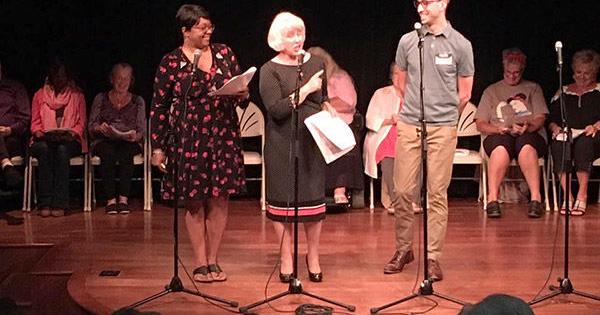 StoryTown radio show returns to McKinney Center | ACCENT
JONESBOROUGH – The radio show StoryTown returns to the stage Jan. 24 at 7 p.m. at the McKinney Center, followed by an opening season gala featuring music and treats from Sweet E's Bakery and Side Hustle Custom Bakery .
The McKinney Center is located at 103 Franklin Ave., Jonesborough.
The hour-long storytelling show with music is formatted like an old-fashioned radio show, filled with true regional stories that connect audiences in their place, performed by a group of local characters, who all live in eastern Tennessee. The live program features musical guests from across the Appalachians, Virginia, Georgia, Tennessee, and North and South Carolina.
The 2022 season is filled with great musical acts, including the January opening act from Freddie Vanderford and Brandon Turner, a famous blues duo from Buffalo, South Carolina who specialize in piedmont blues. Vanderford was inducted into the South Carolina Folk Life Hall of Fame for his mastery of the blues harp and harmonica.
Other musical guests scheduled for 2022 include Momma Molasses, Adam Bolt, Ubunibi-Afia Short, Aaron Jackson, Virginia West and the Jonesborough Novelty Band, among others.
The January 24th show also opens the season, and immediately after production, audiences can sample free treats donated by local Jonesborough bakeries, Sweet E's and Side Hustle Custom Bakeries, and have the opportunity to speak with the cast and the musicians.
Tickets for this live show are $ 10 and are available online at Jonesborough.com/tickets or by calling the Jonesborough Visitors Center at 423-753-1010. Season passes are also available for $ 90 for the 10-show season.
The StoryTown radio show is sponsored in part by a grant from the Tennessee Arts Commission.
Jonesborough's award-winning radio show and podcast StoryTown is performed as a story-filled old-fashioned radio performance at the McKinney Center. The production airs on local public radio station 89.5 FM on the last Wednesday of the month, with bi-monthly podcasts on www.storytown.simplecast.com. These productions celebrate the culture, history and stories of the people of Jonesborough and the Southern Appalachian region. Since 2011, the show has been presented by a multicultural cast of local actors, storytellers and musicians, creating an audio patchwork of what it means to be at home in the mountains of Tennessee.