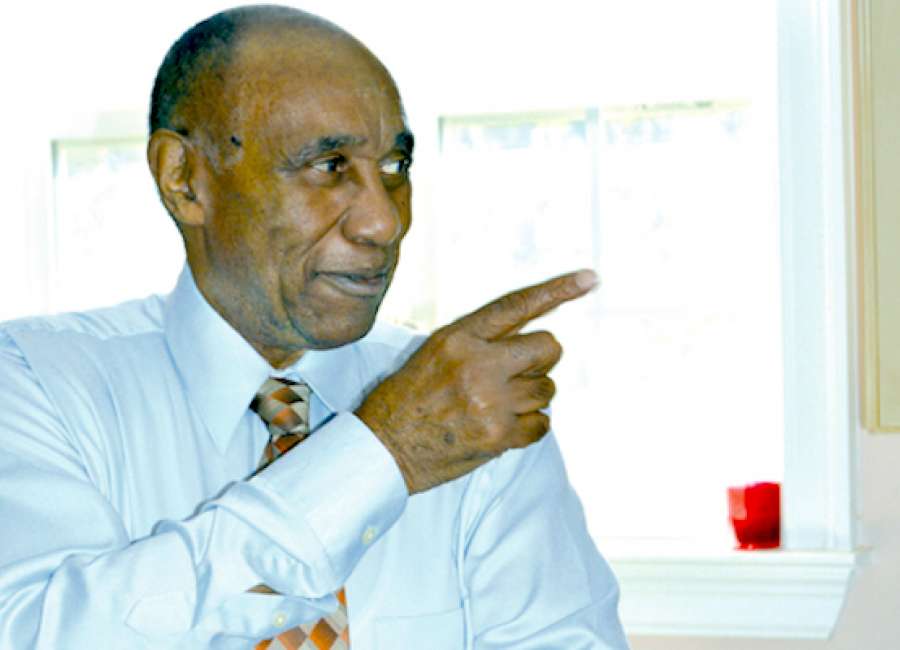 Whitehead, first African-American in broadcasting
According to Don Whitehead, his legacy as the first African-American news broadcaster did not begin with a dream, but with a simple request – a request that Whitehead initially rejected.
After earning a bachelor's degree from Tennessee State University in 1967, Whitehead went on to study at the historically black college, hoping to earn a master's degree in theater.
"My studies were in drama with a minor in English," Whitehead recalled with a laugh. "I was going to New York to work in theatre."
Despite his intentions, Whitehead was approached by Dr. Thomas Poag, then Dean of Arts and Sciences at the university. Poag informed Whitehead that he had been selected by the department to speak with representatives of WLAC, a clear-channel radio station whose signal reached most of the eastern and midwestern United States in addition to the south. of Canada and the Caribbean.
The station's sales manager, EG Blackman, sought to hire the nation's first African-American newscaster and, unbeknownst to Whitehead, Blackman's reps had set their sights on the young graduate student from the TSU.
"I said to Dr. Poag, 'I haven't studied the news. I don't know anything about the news," Whitehead said. "I told Dr. Poag that I was going to work in the theatre.
The professor eventually persuaded Whitehead to speak with WLAC representatives, namely Jimmy Ward, the station's president.
"Back then, when an old person told you to do something, especially the dean, you almost had to do it," Whitehead explained. It was like that at the time. So I went down to the radio station.
According to Whitehead, the first visit to the station included a short meeting with three representatives. Whitehead admitted he was afraid to attend the meeting. The tension in 1968, shortly after the assassination of Dr. Martin Luther King, Jr., was palpable, and Whitehead felt the pressure of being a young black man facing a panel of well-known white business owners.
"I told them that I appreciated the opportunity to meet them. Then I said, "But my major is theater and my plans are to go to New York and get involved in theater there," Whitehead recalled. They didn't thank me for coming. They told me to go back to school and think about it.
Whitehead was present at two subsequent meetings before finally agreeing to take the broadcaster job.
"My first assignment was later that week. I was supposed to attend a press conference…but I had no idea what a press conference was," Whitehead said with a smile. , there was a photo in the newspaper and the headline said 'Tennessee State student signs with WLAC as news anchor', that blew my mind.
Whitehead began to learn the ins and outs of broadcasting and was told that since he had already earned a college degree, he would not need to attend journalism school. Whitehead began announcing the news at the top of the hour during nighttime hours when the station often included a selection of rhythm and blues music to attract announcers who served the African American community.
His early broadcasts left him memorably nervous. Whitehead befriended one of WLAC's legendary DJs, Bill 'Hoss' Allen, and would often begin his hourly reports at the DJ's cue.
"I was so nervous those first few times even though Hoss was there with me," Whitehead explained. "One evening when he pointed his finger at me and said 'you're on', I started reading… we soon saw that I forgot to turn the mic on."
"Hoss came around me and flipped the switch on the microphone. But I continued as if nothing had happened. I was so nervous that I could look up [the empty studio] and see the thousands of people looking at me.
After settling in, Whitehead was confronted by WLAC sales manager EG Blackman. The WLAC representative informed the young presenter that he was about to be given a new assignment. In light of racial unrest in the southern states (where the majority of the station's listeners lived) in 1968, Blackman and other station associates had decided that WLAC's African-American radio reporter would be used to reach the black community.
Whitehead would become a voice for the people, broadcasting from historically black colleges in the southern United States.
'Sir. Blackman told me the station wanted me to broadcast from schools and send a message to people," Whitehead explained. The young radio personality would encourage young African Americans to attend school and advertise colleges while touting the importance of education.
"Here's what drew me to it," Whitehead recalled. "They said my first stop would be at a black college in Jackson, Mississippi."
In fact, Whitehead would be sent in the company station wagon that advertised the WLAC with stickers prominently displayed. A task that Whitehead was certain would put him in danger.
"I walked into the station that night and said to Hoss, 'Blackman sent me to Mississippi,'" Whitehead recalled with a laugh. "I asked him to pray for me. He said, ' Don, my prayers will get you to Memphis, but after that, you're on your own.
At the time, Whitehead had no idea how important his role in broadcasting would be to history, and how his position at WLAC would later impact not only the presence of African Americans in the broadcasting, but also on the number of African Americans attending college. .
Whitehead broadcast from more than 40 black schools across the South and continued as a WLAC broadcaster for nine years before signing with WLAC-TV in sales and advertising.
Whitehead currently lives in Newnan where he is working with local teacher Martha Milam to compose an autobiography. The book will include Whitehead's experiences in news dissemination in the late 1960s and early 1970s.